Barbecue Grilled Lamb Ribs Recipe
This barbecue grilled lamb ribs recipe is straight from the Abruzzo region of Italy, a region of mountains and Adriatic sea where it's not uncommon to see lamb or goat on the menu.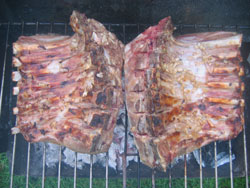 I've been fortunate enough to spend a lot of time in this area and I love the scenery, the people and most of all the food. This grilled lamb ribs recipe is your opportunity to bring that taste of rustic Italy straight to your table.
Whilst lamb ribs are anatomically like pork ribs this recipe is not for low and slow cooking. Lamb meat can be eaten pink and this is what this grilled lamb ribs recipe is designed to deliver. Don't expect "fall off the bone" texture, this is one to get your teeth into and act like a real carnivore.
Lamb ribs have a reasonably high fat content which when rendered will add great smoky flavour but at the same time you don't want too much fat otherwise the marinade is not going to be able to penetrate the meat. A marinade works only on the first 0.1mm from the surface of the meat so if there's a fat layer between the marinade and the meat then the marinade isn't going to have an effect.

This is a simple marinade that needs just an hour or so to tenderize the ribs and after that it's some gentle steady cooking over the grill to deliver something special.
I served my grilled ribs with grilled potato halves and a tzaziki yogurt sauce.

Serves:- 4 people

Preparation Time:- 10 minutes
Marinade Time:- 2 hours
Cooking Time:- 40 minutes

Total Time:- 2 hours 50 minutes

Ingredients:-
4 x lamb ribs (cut to 3oz portions)
4 cloves crushed garlic
A handful of fresh rosemary
Lots of extra virgin olive oil
Juice of one lemon
Method:-
Cut away as much of the fat and any skin from the sides of ribs so that you expose a surface area of meat for the marinade to work on. Score the meat as well to ensure that the marinade has every opportunity to penetrate.
Lay the ribs in a flat non-metallic marinade bowl and sprinkle with the garlic, the rosemary, salt and pepper. Now give plenty of olive oil to coat the ribs and add the juice of the lemon. Cover and put to one side for an hour or so but don't refrigerate. Chilling will turn the olive oil cloudy and gelatinous, you need the marinade to be liquid rather than semi solid in order have the desired effect.
Whilst the lamb ribs are in the marinade you've got plenty of time to prepare the grilled potatoes and tzaziki.

Prepare your barbecue grill with medium heat so that you achieve a gentle cook. Place the ribs on the grill meat side down and cook for 10 minutes then turn them over and cook for the remaining 30 minutes. This technique will nicely brown the meat side and then allow gentle cooking as the bone of the ribs gives the meat some protection.
At regular intervals check the core temperature of the ribs with an instant read thermometer, dependent on how pink you like your grilled lamb ribs, look for the following temperatures:-
130°F (55°C) - Medium rare
140°F (60°C) - Medium
160°F (70°C) - Well done
When cooked, transfer the ribs to a carving board and allow them to rest for 5 minutes before slicing between the bones. I like to serve on one big board and let everyone help themselves.
Considering where this grilled lamb ribs recipe originated it's got to be accompanied by a glass of Montepulciano d'Abruzzo!
See Also:-
Smoked Lamb Ribs
Galouti Grilled Lamb Kebabs
Grilled Lamb Recipe In Red Wine
Devilled Kidneys
More Barbecue Lamb Recipes

Return to Gas Grill Recipes from Barbecue Grilled Lamb Ribs Recipe