Easy Grilled Steak Marinade Recipes

Two easy grilled steak marinade recipes both of which come with full bodied flavours that work perfectly with rump steak.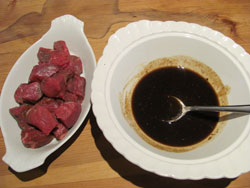 Tamarind Spiced Kebabs -  not only have you got the marinade recipe but there's a full guide to making the kebabs too

St Patrick's Day Marinade - it's full of Guinness and perfect for whole rump steak.

Tamarind Spiced Marinade

This grilled steak marinade is full bodied with tamarind spice, not only did it add an amazing flavour, the tenderness of the steak was superb. I made it up for some kebabs and the family loved it but it would work just as well on a straight steak.

Note that other than the onion and garlic salt there isn't any other added salt. A small amount of salt in this marinade will act to denature the proteins in the muscle and allow moisture (and flavour) to penetrate further than the surface, in other words the marinade is acting as a brine. Too much salt however will have to opposite (osmotic) effect and leach moisture out of the steak making it chewy and dry.
If you can't get onion salt or garlic salt and want to simply add the respective powders then add ¼ teaspoon of salt to the marinade but no more.

For this grilled steak marinade recipe I used diced rump steak because it's relatively fat free (and not as expensive as fillet steak) therefore ideal for the marinade to work on.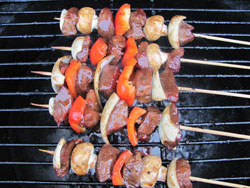 There's enough marinade here to cover at least 500g or a pound of steak.
Serves:- 6 people

Preparation Time:- 30 minutes
Marinade Time:- 2 hours
Cooking Time:- 12 minutes

Total Time:- 2 hours 42 minutes

Allergens:
There are no allergens in this recipe.

Ingredients:-
For the marinade

1 tablespoon tamarind concentrate
2 tablespoons white vinegar
1 tablespoon white sugar
1 teaspoon onion salt
1 teaspoon garlic salt
1 teaspoon molasses
½ teaspoon black pepper
For the kebabs

500g or 1lb trimmed, diced rump steak
15 button mushrooms
1 red pepper cut into squares
1 onion cut into "half wedges"
Method:-
Mix up all the marinade ingredients in a non-metallic marinade bowl and add the diced steak.
Small cubes of steak have a greater surface area compared to a larger hunk of meat and all this surface area is available for the marinade to work on. Cover the bowl and marinade for 2 hours, you don't need to refrigerate during this time.

Soak some bamboo skewers in water for 30 minutes prior to threading your kebabs.
Thread the meat and veggie slices alternately onto the skewers. The veggies are important for cooking because they provide space between the pieces of meat so the heat from the grill can easier penetrate to the core of the meat. This means that you can cook your kebabs in less time and eliminate the risk of the outer shell of the steak being dry.

Grill over medium hot heat for about 12 minutes turning occasionally and brushing on a little more marinade to help color the veggies. Now tuck in!
---
Grilled Steak Marinade Recipe With Guinness

What more is there to say than this is the perfect marinade for your St Patricks Day meal on March 17th. It's the acidity in the Guinness that helps this marinade deliver tender steaks and add flavour at the same time.
All you need is some rump steak to bathe in the marinade.

Yield:- 1 cup or 240ml

Preparation Time:- 10 minutes
Marinade Time:- 30 minutes
Cooking Time:- 4 minutes
Total Time:- 44 minutes

Allergens:
Alas, allergens abound in this grilled steak marinade because there will be gluten in the Guinness, soy sauce and the Worcestershire sauce. In addition soy sauce is brewed from soya beans and Worcestershire sauce also contains fish.

Ingredients:-
4 rump steaks (175g each)
2 crushed garlic cloves
120ml or 4fl oz Guinness
2 tablespoons Muscovado Sugar
2 tablespoons Worcestershire sauce
1 tablespoons extra virgin olive oil
1 tablespoon soy sauce
1 tablespoon crushed black peppercorns
Method:-
Mix up all the ingredients in a glass or earthenware shallow dish and place the steaks in the marinade. Marinate for approximately 2 hours and drink the rest of the can of Guinness!
When your ready to cook make sure that your barbecue is good and hot, brush the grates with a little oil (be sparing so you don't get a flare up) and slap the steaks on. Use any remaining marinade to baste the steaks during to cooking.
If you're like me and go for a rare steak, a couple of minutes either side and Bob's your uncle. If however your prefer medium to well then you might want to double that but to ensure your steak is exactly how you like then use a bbq thermometer and work to the following:
135°F (57.2°C) - Rare
145°F (62.6°C) - Medium rare
160°F (71.1°C) - Medium
170°F (77.7°C) - Well done
Use this link for my tips section on how to grill steaks.
For serving I like to serve my steak with a green leaf salad and I don't mean to stereotype but a St Patrick's Day barbecue wouldn't be complete without some grilled potato halves.

See Also:-
Barbecue Lamb Marinade
Grilled Chicken Marinades
More Barbecue Marinades

Return to Recipes Home from Easy Grilled Steak Marinade Recipes