Thai Grilled Turkey Legs
It would have been all too easy to prepare grilled turkey legs with a fruit sauce and keep it close to the traditional roast turkey that we all know and love but I thought it would be good to do something different. How about a Thai grilled turkey thigh?
Choosing the thigh rather than a whole leg makes the cooking process a lot easier because the thickness of the meat is more uniform and you don't have to worry about either under-cooking the thickest part of the joint or burning and drying out the thin end.
And just because it's Thai, don't think that there's a long preparation process and lots of ingredients to pull together, I've just plumped for a Thai green curry paste and slapped it on. (Yellow curry paste is milder if you don't want it too spicy).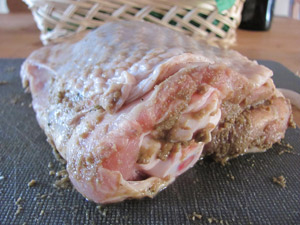 It's so easy to do and I've written the ingredients based on 1 turkey thigh so it's easy to multiply up if you're doing more and add an extra bit if you're going for whole grilled turkey legs.
Allergens:
Check the ingredients of the curry paste that you choose to use.

Ingredients:-
1 turkey thigh
1 tablespoon Thai Green Curry Paste
Salt
Method:-
Slide you fingers under the skin of the turkey and taking care not to puncture the skin, make a pocket.

The skin will probably cover about half the turkey thigh so use about half the curry paste and spread it around in the pocket that you've made. Spread the remainder of the paste over the rest of the turkey and season the outside of the skin with a little salt.

Place your thigh on the grill skin side up and cook gently for about 1 hour turning skin side down after 40 minutes to crisp up the skin.

I'm using the Big Green Egg for this, I've got it set at a temperature of 275°F or 135°C and using direct heat.

Cooking time will be dependent on the size of your turkey thigh so you're looking for an internal meat temperature of 180°F or 82°C using an instant read temperature probe.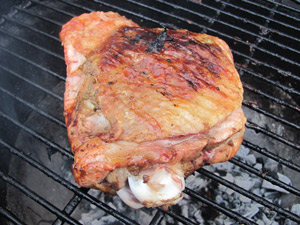 I served mine with fries and a fresh salad. A little drizzle of lime juice over the salad keeps with that Thai theme and mayo on the fries.
See Also:-
Tandoori Grilled Turkey Breast
Indian Grilled Turkey Burgers
Plank Cooking Turkey
Thanksgiving Smoked Turkey
Christmas Smoked Turkey Recipe