BBQ Catering Lancashire

BBQ catering Lancashire, welcome to Que Fresco.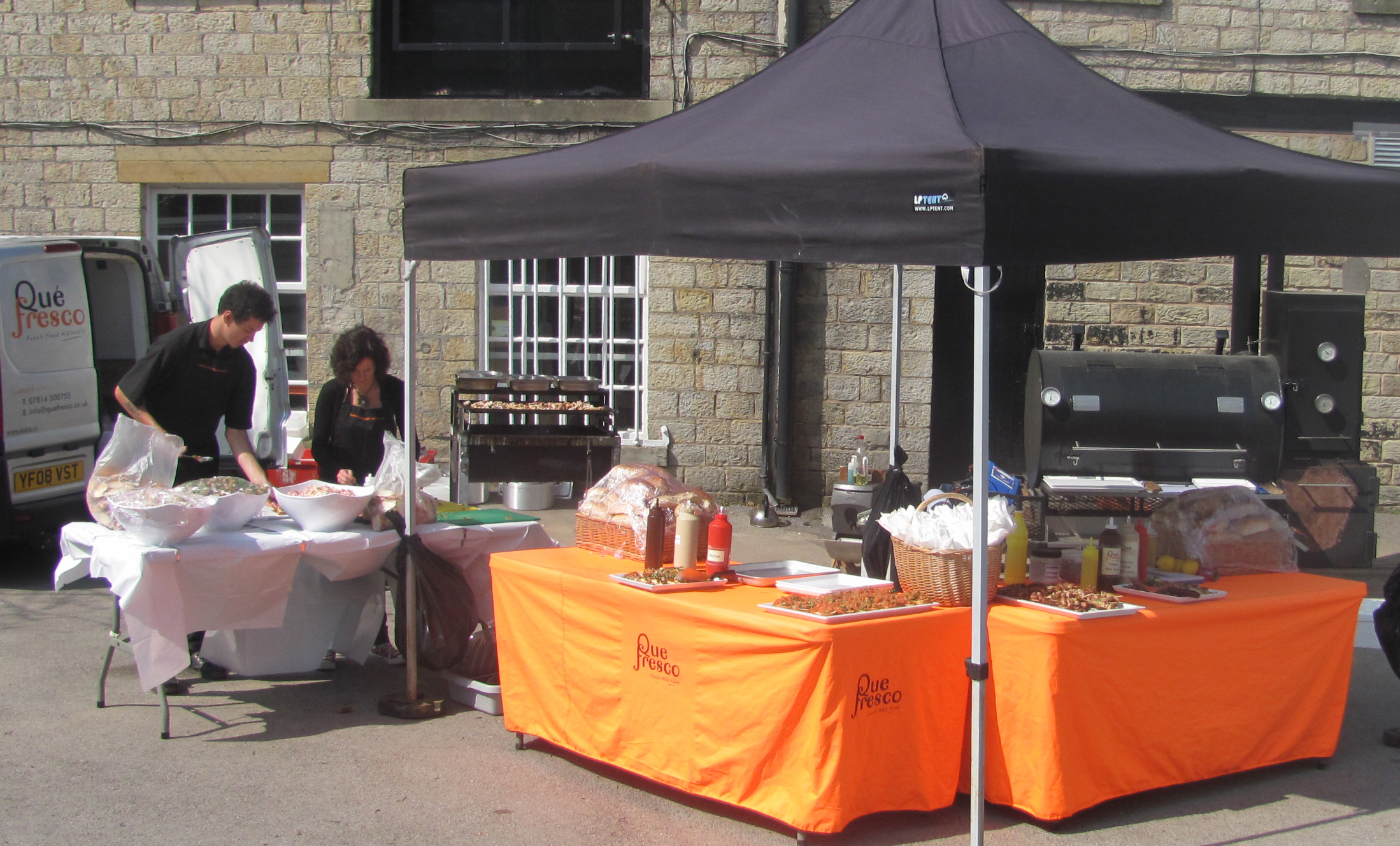 Our philosophy is simple…authentic charcoal cooking using the finest Lancashire produce wherever possible.
"We've used Que Fresco barbecue catering for a number of hospitality events and without fail our clients always rave about the food."
Richard, The Green Jersey
Clitheroe

Typical BBQ catering Lancashire events include:-
Wedding functions this can be the breakfast, with canapés and meal or simply and evening party
Corporate events
Garden parties
Children's parties
Hog roasts
Summer fêtes
Collectively we have years of experience catering for weddings, corporate events and private parties and all of it in outdoor BBQ catering…if it's not cooked over charcoal, we don't do it. There are other things that we are passionate about too…fresh produce.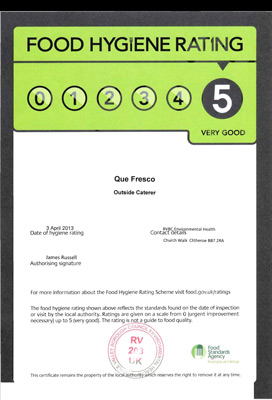 Whether your event is big or small, corporate event, village hog roast or children's party, we are here to help.
We can provide a full event service with marquee hire, licensed bar, tables, chairs etc or simply rock up and serve our smoky BBQ food.
All our produce is either home-made or sourced from the finest local producers, we are also experts in catering for special dietary needs such as gluten free. We have a multitude of menu options suit every budget and even if you just want a sausage and burger barbecue then relax, we make our own sausage, we make our own burgers and we'll be delighted to tell you what's in them (or more importantly what chemicals and other additives are NOT in them).
"Hi Paul, What a fabulous day, every single person had a great time. The food was fabulous and you and your team were fantastic! Thank you so much for making it a very memorable garden party."
J, Texecom
Oldham

You name it and if you want authentic charcoal cooking then we want to cook it for you!
Delicious fresh and locally sourced food
Relaxed service
A wide range of menus
Great value for money
Catering for any event
Marquee, crockery and linen hire
In short:
We cook it low and slow
We present it for you and your guest to share
You tuck in and enjoy
We clear up and leave your venue exactly as we found it…and we take our rubbish with us!
A Typical BBQ Catering
Lancashire Menu

A Que Fresco BBQ catering Lancashire menu is designed to give you variety, fresh local produce and also to meet your proposed budget.
All our recipes on this site and you're welcome to choose anything for us to cook but as a taster here are some of your perennial favourites that we get asked for time after time:-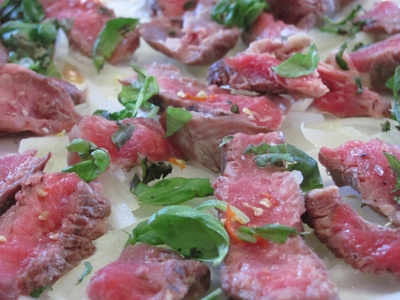 Canapés
Pulled pork slider – crisp crostini with your choice of our homemade sweet smoky or white BBQ sauce
Bruschetta – garlic rubbed savoury biscuit topped with luscious tomato, extra virgin olive oil and a subtle chilli heat to finish  
Carpaccio - marinated tender sirloin of beef, flash grillled on all sides and thinly sliced

Avocado & bacon bites – small cubes of avocado wrapped in our home cured crispy bacon
Mains
Pulled pork – tender strands of pork shoulder hot smoked & slow roasted for 16 hours served with crunchy slaw
Piri piri chicken – tender slices of chicken breast marinated in our own special seasoning and a sauce that kicks back
Gluten Free Sausages – Choose from "Traditional Lancashire Sausage" "Pork & Wild Garlic" or "The Pendle Warlock"
Burgers – Prime ground British beef seasoned by us to perfection
Sweet Sticky Glazed Ribs – baby back ribs rubbed in Qué Fresco dust, cooked low and slow and served in our sweet stick barbecue sauce.
Hot smoked salmon – cooked on cedar planks and served on a bed of watercress and balsamic vinaigrette
Grilled Halloumi – marinated Cypriot cheese caramelised over the charcoal grill
"Best ribs I've had in the UK. The spice in the rub, the sweetness in the sauce and the smokiness in the rib work together perfectly!"
Dave,
Lancaster (originally from Texas)

Salads
Crunchy slaw – a rainbow of julienne vegetables dressed in our homemade white barbecue sauce
Greek salad – sweet cherry tomatoes, cucumber, olives and feta cheese
Fire Roasted Red Pepper Salad – Sharp, sweet and fruity
Pea & potato – local potatoes, garden peas topped off with fresh pea shoots
Desserts
To be honest, our style of authentic charcoal cooking doesn't lend itself with desserts, it's not impossible but frankly we find that the charcoal barbecue doesn't add anything to the party. For this reason we prefer to partner with quality local producers and guarantee you get what you want.
The Ginger Baker – Sharon's desserts are gluten free (but you wouldn't  guess so) and they are absolutely scrummy.  
Pextenement Cheese – We can put together a large cheese board or individual selections of local organic cheese with butter and biscuits.
This is just a sample of what we like to cook and we can pull together as many or few of these dishes as you prefer. All we need to create your personalised bbq catering menu is an idea of:-
 Your approximate budget per head
The number of guests you wish to cater for
Your preferred style of service
Service can be presented to your guests on a communal table for a self-service "graze" or in smaller portions to be delivered to table for guests to share. Don't ask for individual service…we don't think suits a barbecue so we don't offer it.
Complete the rapid response form below to tell us what you need and we'll get back to you with 24 hours. Alternatively call Paul on 01744 500755
Click here to see our booking terms and conditions.
"Que Fresco supported our "Night of 100 Wines" with their delicious pulled pork and piri piri chicken. Everyone left happy, especially those with special dietary needs"
Whalley Wine Shop,
Whalley

If you're planning a BBQ event then please call Paul on 07814 500755 or complete the rapid response form below so we can hold availability for your chosen date.
BBQ Catering Lancashire And Beyond

!

Having started with BBQ catering Lancashire our reputation has gone from strength to strength in the county. We've now also teamed up with one of the best barbecue chefs that this country has ever produced in order to offer a full UK service.
Our associate chef and former UK barbecue champion, Andy is now taking our catering proposition to the whole of the UK so if you want the best then check out our outdoor BBQ catering UK service.
Terms & Conditions
All BBQ catering Lancashire bookings must be secured by a 50% non-refundable deposit. This must be paid within 1 month of receiving a quote for the booking, with the remaining balance payable 2 weeks before the day of the event.
Note: Your proposed date is only secured when we receive the deposit

Any cancellations or amendments to the booking must be made in writing
four weeks before the function.

All quotations are valid for 28 days. Quotations can and may be
subject to change.

If the event is based on the client selling tickets, it is the
responsibility of the client to ensure the numbers are met.
We will be flexible where possible and where proposed numbers are not met there will be a minimum charge of 75% of the original quotation.

Parking space and road access to the catering area must be available.

All parking permits/fees are to be met by the client.
For that unique bbq catering Lancashire atmosphere, call Paul on 07814 500755 or complete the rapid response form below.
See Also:-

Wedding BBQ Catering
Outdoor BBQ Catering UK
Gluten Free Catering

Return to Home Page from BBQ Catering Lancashire