Tapas Appetizers And Spanish Menu Ideas
Tapas has to be the start to any Spanish menu ideas page and with these BBQ recipes you really can reproduce the taste of the Mediterranean in your backyard barbeque.
The word originates in the Tascas and Bodegas (bars, to you and me) of Andalucia, an extremely hot part of Spain. The word is derived from the verb tapar – to cover.
In the days before air conditioning, the men in the bar would be served with a small slice of bread to cover (tapar) the top of their sherry glass to keep the flies off. It then developed so that the bread was then served with a little something on top, and so became "una tapa" – a cover.
Here I am searching for Spanish recipe inspiration - it's a hard life!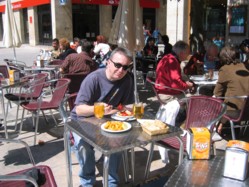 Now I have to confess that I've used the word tapas to describe many of my appetizers that aren't really Spanish, it's just that it's a great word to describe finger food destined to be eaten with an aperitif whilst the main meal is cooking.
On this page however you'll find only those recipes that are guaranteed typically Spanish.
Asparagus And Serrano Ham

Kidneys and Liver

Salmon In Mojo Sauce

Sardines

Shrimps In Lime Drizzle

Mediterranean Sea Bass

Basque Ribs
Note
The Spanish cook on a special type of grill called "la plancha" which is a bit like a hot plate.
The concept is that the heat is in direct contact with the food so it cooks that much more evenly. The word "plancha" has now been taken to a new meaning with the advent of the Red Hot Plancha - a new style of communal al fresco dining with a plancha hot plate as the centerpoint of the dining table.
Of course, you don't have to go to such lengths. You can just improvise with your own grill, imagine you're in Spain and sit out on the patio with a glass of Rioja. Buen provecho!
Related Pages:-
Patio Furniture

More About Barbecue Grills

Return to Home Page from Tapas Spanish Menu Ideas